Bei Hoch Explosiv sorgte Juvenile X nicht nur für einen, sondern gar für zwei krasse Schockmomente: Nachdem er seine Teilnahme am Main Event via Videobotschaft abgesagt hatte, stürmte er plötzlich überraschend die Halle, mischte doch noch bei dem Match mit und riss am Ende dem rechtmäßigen Sieger und weiterhin amtierenden Champion Mr. Exotic Erotic den Gürtel aus den Händen, um mit selbigem dann genauso plötzlich wieder zu verschwinden.
Eine solche Dreistigkeit kann natürlich weder der Champ noch das Office auf sich sitzen lassen, weshalb jetzt bestätigt wurde: Juvenile X muss sich Mr. Exotic Erotic bei Only The Strongest stellen, und zwar in einem 30-minütigen Iron Man Match um die New World Heavyweight Championship. Dann drücken wir Mr. Exotic Erotic mal die Daumen, dass Juvenile X keine weiteren Überraschungen parat hat...
Bisherige Matchcard Only The Strongest am 5. November:
New World Heavyweight Championship
30 Minute Iron Man Match
Mr. Exotic Erotic vs. Juvenile X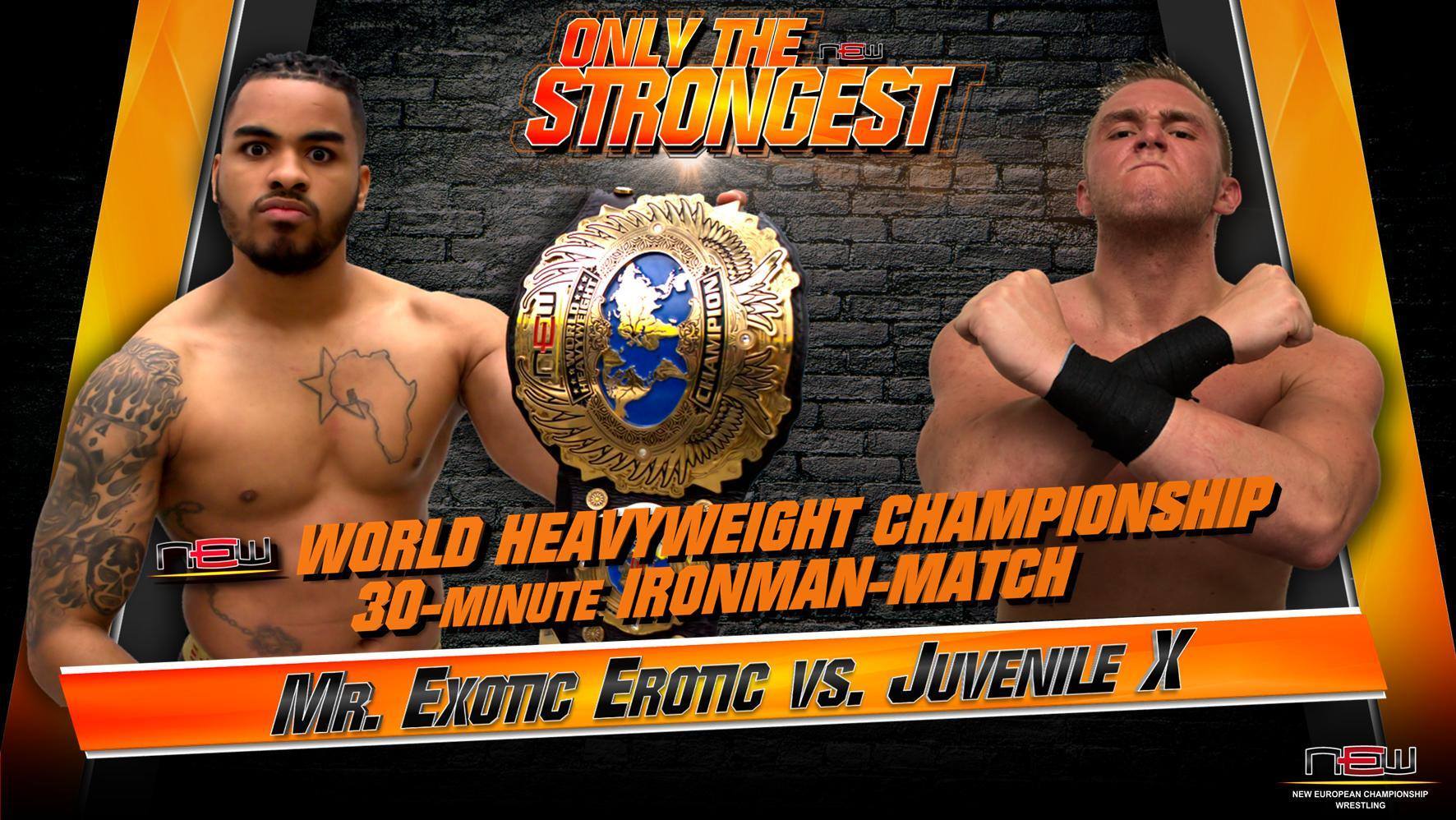 Tag Team Match
Adrian Severe & T-K-O vs. Demolition Davies & Cyanide
NEW World Internet Championship Turnier
First Round 4-Way Elimination Matches
Tommy Blue Eyes vs. Janni Jarruk vs. Aziz Adamant vs. Cash Crash Fast Time Moodo vs. Marc Empire vs. Maveric Cross vs. Nathan Wolf Georg "Schorschi" Gwärch vs. Zenon Air vs. Boris Pain vs. Tyler Slade
---
Der nächste NEW-Event Only The Strongest findet am Samstag, den 5. November, im HotSpot in Heßdorf statt. Neben dem Turnier um die neu eingeführte NEW World Internet Championship muss der amtierende NEW World Heavyweight Champion Mr. Exotic Erotic seinen Titel in einem 30-minütigen Iron Man Match verteidigen. Eintritt für Kinder und Jugendliche bis 14 Jahre bei allen Events in Begleitung eines Personensorgeberechtigten. Ab 14 Jahre ohne Begleitung. Tickets gibt es 
hier
NEW-Events 2016 (Änderungen vorbehalten!):
Sa. 05.11.2016 NEW "Only the Strongest" Sa. 03.12.2016 NEW "Internet Wars"
NEW-Events 2017 (Änderungen vorbehalten):
Fr. 27.01.17 und Sa. 28.01.17 NEW "TBA" Sa. 04.03.17 NEW "Retribution" Sa. 01.04.17 NEW "No Regrets" Sa. 29.04.17 NEW "EXTREME VI" Sa. 03.06.17 NEW "WAR" Sa. 01.07.17 NEW "Deadline" Sa. 05.08.17 NEW "Pride and Honor" Sa. 02.09.17 NEW "Snakepit" Sa. 07.10.17 NEW "Hoch Explosiv VII" Sa. 04.11.17 NEW "OTS" Sa. 02.12.17 NEW "Internet Wars" Video on Demand mit vollständigen NEW-Events unter 
www.vimeo.com/newwrestling
Anfahrt zum N.E.W. HotSpot: Autobahn A3 / Ausfahrt Erlangen-West, direkt an der Autobahnausfahrt im neuen Gewerbepark Heßdorf, unmittelbar neben dem Best Western Hotel
Wrestlingschule / Pro Wrestling School